Ziggy, The Blade Dancer

"You think you've seen me at my best? Be prepared to get left behind in the dust."

Status

Alive

Age

Unknown

Origin

The Dark Continent

Allegiance

The Legendary Legion and their allies

Race

Fanalis

Gender

Female

Weapon of Choice

Ki-charged kicks

Secondary Weapon

Twin scimitars

Main Element

Lightning
Page in progress for the bad-ass Ziggy. Have some of her kick-ass moves while she renovates the page.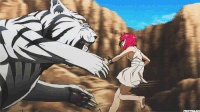 Ad blocker interference detected!
Wikia is a free-to-use site that makes money from advertising. We have a modified experience for viewers using ad blockers

Wikia is not accessible if you've made further modifications. Remove the custom ad blocker rule(s) and the page will load as expected.